Mission
Our continued mission is to revitalize and sustain our historic downtown area by creating a strong positive identity, enhancing access to the lake and waterfront areas, and complementing a thriving business district with places to be entertained, eat, shop, and enjoy!
We need your support to continue our work and would appreciate
any contribution you can make.  To make a monetary or in-kind tax deductible contribution to our organization please do one of the following.
Donate to Centering Onalaska!
Please make checks payable and send to:
Centering Onalaska
415 Main St.
Onalaska, WI, 54650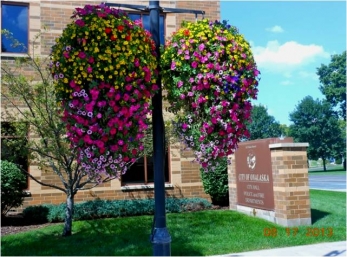 Accomplishments
10,000 Daffodils Project (1996)
Numerous Urban Forestry flower gardens throughout the community.
Streetscape design
Supported grant programs for streetscape design; influenced the final design/appearance of new Main Street
Building design guidelines established for Main Street and assisted with Monsoor building and Sue Kolve development
City entryway signs – assisted with development
Annual hanging flower baskets have enhanced the downtown streetscape since 2003.
Centering Onalaska Scholarship for the Arts (2010) presented to local high school students pursuing post high school education in an art related field
Seasonal banners provide year-round color and interest
Harvest decorations (2010) bring autumn to City Hall
Annual holiday garlands, wreaths and lighting are anticipated by everyone
City fundraisers for Centering Onalaska Scholarship for the Arts: Dishin' Art project and Concert in the Yard
Sunny Lawn Stakes help "Create Community Pride"